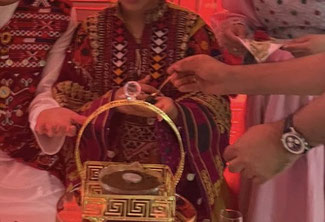 2002, summer. My father was asked by his cousin to write a song for her daughter's henna ceremony at the wedding.
So he started writing. He had been busy for several hours. Then presented his poem. I remember how he explained the poem. Later, that night he spoke to the Afghan singer

Jawid Sharif

on the phone. They went through the song again and again. And he sang bits of melodies.
Then, there was the wedding day. 26th July 2002, the bride, was standing and her sister brought the "Nakreeze" (Henna) and this song was presented to the world for the very first time.
The song was written for his niece, Zarlashta. It mentions her sister, her mother, her father and her brothers.
20 years have passed and this beautiful song has become famous amongst Afghans. Many Zarlashtas and Arianas

(my sister)

had this song on their wedding days. Whenever I hear this song, I have to think of how and why this song was made.
Whenever I listen to this song, I think of my talented father. A pilot with broken wings, who started writing poems in order to heal. This is one of many beautiful poems.
. I will always enjoy listening to this song